'Seeing it First Hand' seizes on those moments of heightened awareness, witnessing the stories of life's humanity played out in the lives of the world's everyday players.
These moments are immediately recognisable to every person who sees them – snapshots of life at a point, both beautiful and complicated.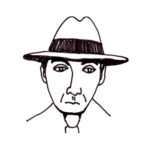 Martin Ricardo-Jones spent the majority of his early life in Marseille working as a butcher boy before qualifying as a professor of English literature.
He was born in Santiago de León de Caracas to a Welsh mother and Venezuelan father.
He lives and works in New Mexico and frequently travels to Marseille to write and experience the beauty and imperfection of life.
Jack Brewis was born in Johannesburg, South Africa on February 12th, 1970.
He grew up in a country of incredible beauty in a climate of deep social tension and inequality.
His work carries with it the legacy of having been an observant child in a time and place that was beautiful and dreadful; liberating and constrained.